What does inverted yield curves mean to homeowners?

30-year Fixed Mortgage Rates (blue line) have declined from 4.9% in November to 3.6% today, erasing rate increases that started in mid-2016. The current rates are now at 10-year lows and they may even go a little lower in the coming months. However, there is not too much room to go lower as the 50-year low was 3.3% in late 2012 following a global financial crisis. (click on chart to view interactive chart).
Mortgage Rates – U.S. weekly averages as of 8/15/2019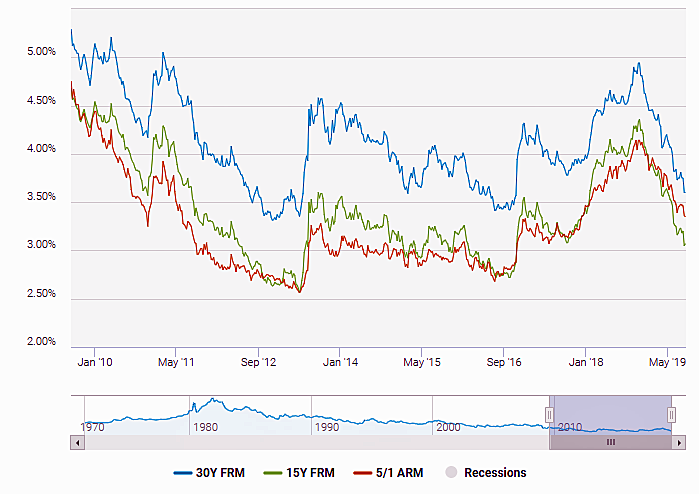 Homeowners should at a minimum review their existing mortgages and consider refinancing. A lower interest rate means lower monthly payments that can go to savings or an annual vacation. Given the dramatic increase in home values, you may be able to increase your loan amount to pay-off high-interest rate debt (credit cards) and/or obtain funds for that home improvement project you have been wanting to do.
Another interesting refinancing option to consider is switching to a 15-year Fixed Rate Mortgage (green line), which is currently only 3.2%. The monthly payment may not be lower due to the shorter term, but there is considerable savings in the interest you pay over the life of the loan.
And then there is the opportunity to upgrade. Very low interest rates combined with our soften market creates a window of opportunity to upgrade to a larger home and/or a better neighborhood or school district. The lower interest rates give you increased purchasing power. The softer market reduces bidding wars and increases the chance to get an offer accepted that is contingent on the sale of your existing home. Lastly, several lenders are now offering "bridge loans" that eliminate the need for a contingency.
U.S. 10 Year Treasury Note

30-year Fixed Mortgage Rates most closely follow 10-year Treasury Notes. 10-yr Treasury Notes have declined from 3.1% in October to 1.55% today, an amazing 50% drop in just ten months. The rate has dropped from 2.1% during the half of this year to 1.5% during the first two weeks of August. The ten year low is only slightly lower at 1.47%.
The recent decline in interest rates is dramatic and recent. 30-yr Fixed Mortgage was forecasted to rise to 5.1% in 2019 just this time last year. This sudden reduction in rates is an opportunity to lock-in rates at 50-year lows. Rates are likely to return to 5% once the financial markets settle down. The potential for lower rates is limited as the current rates are within 0.3% of 50-year lows.
Let me know if you would like additional information. I can recommend excellent mortgage advisers to help you explore refinancing options. I can also provide you with an analysis of the upgrading options.
Just let me know. I'm always available to help you and your friends.