Home prices declined for the first time since 2011. Demand decreased as days on market lengthen and the Final Sales Price over List Price percentage fell to single digits. The supply of New Listings remained consistent with prior years, resulting in a larger number of Active Listings.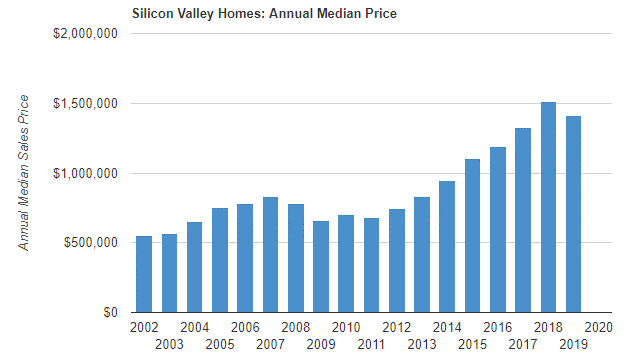 The annual median price for homes in Silicon Valley declined by 4.7% in 2019. This is a major market change given we haven't seen a down-market since the Great Recession. However the median price is still higher than 2017, raising the possibility that 2018 was a higher-than-usual spike.
Market demand took a noticeable hit in 2019. We saw a smaller version of this in 2016. I watch two key indicators of market demand: days on market and final sales vs. list price percentages.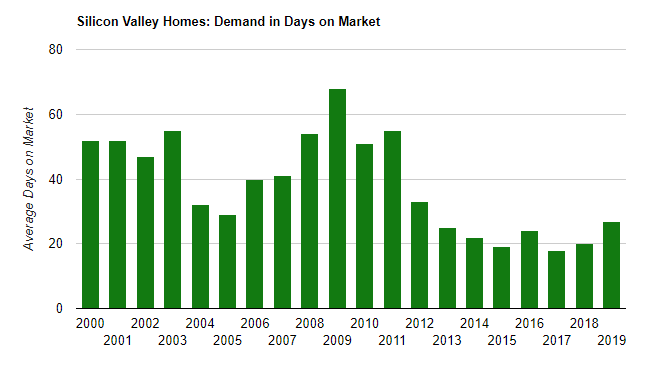 The average days on market jumped significantly in 2019. The number jumped from a low of 18 in 2017 to 27 in 2019, a 50% increase. This new level is still low by historical standards, so a shift in a relatively strong market.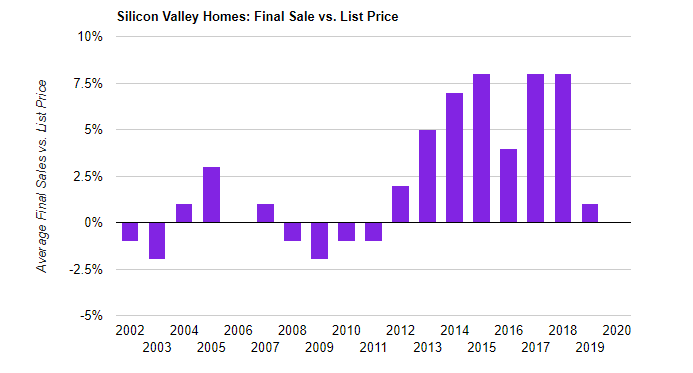 The fall of sales vs. list price is the most dramatic. We were at around 7% much of 2014-18 with exception of 2016 at 4%. This fell off-a-cliff to 1% in 2019. This reflects far fewer competing offers driving up the asking price and more homes not selling during the first week or two on market.
What does this mean for home buyers?
This is a far more friendly environment for home buyers. The likelihood of multiple offers is lower and the amount over list is lower. Homes selling in the first two weeks on being on market are still selling for 5-10% over list. However after that, homes are typically selling for 3-5% below list and that's after any price reductions.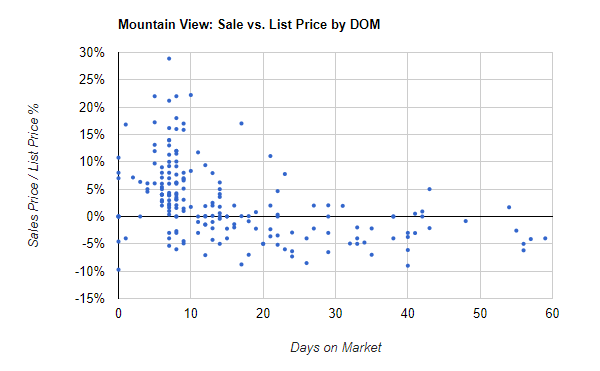 How does this impact sellers?
Sellers need to be more careful in deciding on a list price. We are no longer in a market were sellers can expect a home to sell for 10%+ over the list price. Price aggressively to increase likelihood of selling quickly. Or test the market with a high price and not be surprised if it takes longer and sells for below list.
Checkout this information for each of the cities covered at www.SiliconValleyMLS.com This site and the charts above cover the Silicon Valley cities from Menlo Park to Los Gatos. There is info on the real estate market, the schools and the community.
Send me an email with any questions or comments at bryan.sweeley@compass.com.
Home Prices decline 4.7% in 2019